Challenge Machinery's Titan Series Paper Cutters

Challenge Machinery's Titan Series Cutters
Stop wasting valuable production time using that old paper cutter. Step-up to a Titan Series paper cutter today!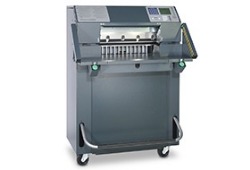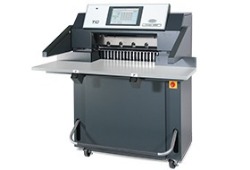 Safety features
Standard safety feature include CE and ANSI standard compatible light curtain system to protect the operator in the cutting area. These self-monitoring beams ensure the highest degree of safety for the operator. A dedicated push-out key moves the stock forward allowing the operator to handle the pile without placing his/her hands under the clamp and knife. Fully enclosed rear tables and a table slot cover protects the operator from the possible pinch points. All Titan cutters are UL, cUL listed and meet CE and ANSI requirements ensuring that Challenge cutters are made to the highest safety standards available on the market.
ergonomic
Challenge's exclusive Ergo-Touch Cut Button Option provides protection from one of the most repetitive movements required of a cutter operator - the continual pressing of the cut buttons during the cut cycle. The Ergo-Touch cut button system requires the same dual handed interaction from the operator but does not require him/her to hold in place a spring pressured button. This system only requires that the operator's finger be present in each cut switch device during the cut cycle providing ergonomic relief on the operator's hands and wrists.
Control
The line-light cut position indicator projects a line of light on the surface of the stock to quickly and accurately position each cut by sight. A low pressure foot pedal clamping system gives the operator safe control of the clamp when pre-cut clamping is needed, such as holding slick stock in place or verifying a cut position.