Need help in meeting your production schedule?
Need Help In Meeting Your Production Schedule?
---
To keep your busy production schedule, you need reliable equipment in your bindery. The BAUM 714 Series is easy to use, reliable, automated and designed for the digital market. Learn more about the BAUMFOLDER 714 Series below!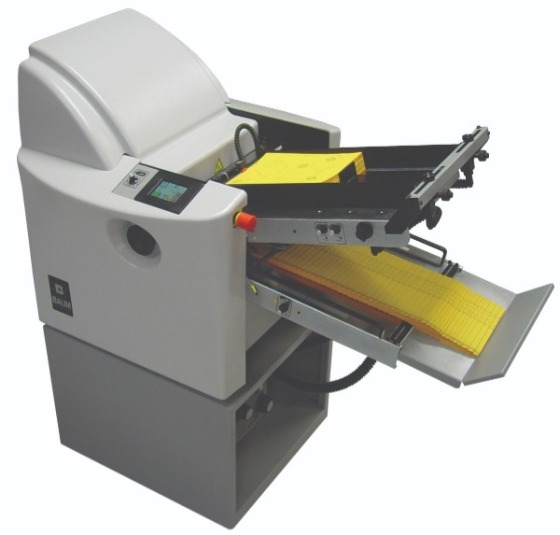 BAUM 714XA Autofold
This automated tabletop folder provides reliability, durability, and speed in a compact and convenient design.
---
This BAUM 714XA offers all of the rugged features of the popular manual setup BAUM 714XLT folder and then adds automation and state of the art features to meet today's demanding needs along with modern styling. The 714XA is designed to meet the needs of all printing and imaging folding applications with these key features:
Programmable memory

Variable batch data entry

Total counter

Feed table extensions for longer sheets

Automated fold plate setup

Flip deflector, non-marking fold plate technology
BAUM 714XLT ULTRAFOLD
The BAUM Ultrafold 714XLT is an air feed tabletop folder that combines rugged reliability in a compact, convenient size. The 714XLT is ready to go to work for you anytime and any place that you need it!
---
The 714XLT can handle coated or uncoated paper sizes from 3" x 5" to 14" x 20", with an extra-long feed table to accommodate the larger sheets. Key features include:
Non-marking, continuous feeding with bottom feed system

Toner resistant and static dissipative folding rollers

Handles laser, offset, and other digital printed stocks

35,000 Sheets/Hour (Letter size/A4 paper folded)

Loads and unloads from the same end of the machine