PUR Perfect Binders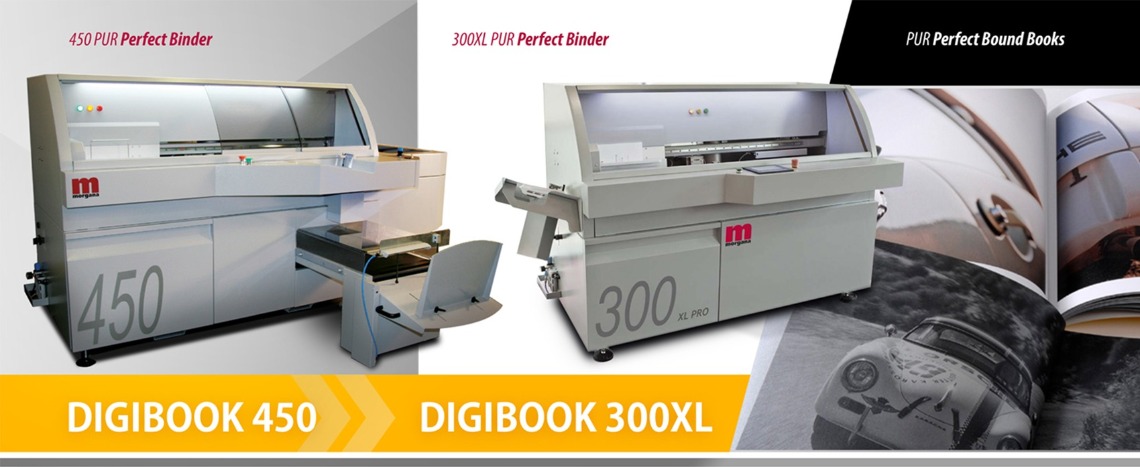 PUR Perfect Binders
The DigiBook 300 and 450 are higher productivity models, ideally suited to litho and digital printers who require short to medium runs of PUR perfect bound books. These two models have the same innovative glue application and cleaning system as the 150 and 200, with the PUR glue being applied on the book spine and on the sides by independent glue slots. The amount of PUR glue is determined by the height of the applicator and the pressure applied giving complete control and allowing any kind of book to be bound with maximum ease.
Another key feature of the 300 and 450 models is the sophisticated milling and notching tools which gives the optimum spine preparation of the book block to interact with the PUR glue. Additionally, the DigiBook 300 and 450 have completely retractable milling systems allowing for the production of sewn book sections.
The nipping press is a pneumatic system with adjustable lateral pressing force. Pressing time is also adjustable from the panel. The press height varies from 0 to 1.5 mm for optimal squaring of the spine and quality of glue application.
In addition to the automatic cover feeder, the DigiBook 450 is also equipped with an automatic book delivery and stacking section to maintain output speeds and reduce handling of the bound books. For additional information, please contact us at 810.238.7370.