Standard Horizon
How to Purchase This Item:
Horizon AF-406F Small-Format Paper Folder
Application Flexibility, Especially for Insert, Outsert, and Pharmaceutical Markets - The Standard Horizon AF-406F Small-Format Paper Folder is a small-format fully automated 6-buckle folder with pile feed and suction head with an optional 6-buckle second unit that can be added straight or cross-wise, for sheet sizes from 1.97" x 3.94" (2.36" with optional device) up to 16.92" x 25.98". Small folds down to .79" can be performed. This provides application flexibility, especially for the insert, outsert, and pharmaceutical markets.

The AF-406F has 17 pre-set fold patterns. For production, 200 custom jobs can be stored in memory for easy recall, with automated make-ready in seconds. A user-friendly 10.4" color touch-screen control panel displays all common fold formats and sheet sizes for easy and automated setup. 
Horizon AF-406F Small-Format Paper Folder Features
Automated make-ready in seconds
Select sheet size and fold pattern on the LCD touch-screen
Superior suction feed system and feed table control provides stable feeding operation
Perforation/score navigator makes perforation/score setting simple
Fully automated roller gap setting
High speed feeding without scratching
7 pre-set fold patterns
200 custom jobs can be stored in memory for easy recall
A user-friendly color touch-screen control panel displays all common fold formats and sheet sizes for easy selection and automated setup
6+6 Buckle modular concept allows simple to complex fold patterns
Feeding system combines a rotary vacuum feeder with front and rear adjustable air separation
High quality buckle plates are specially coated to reduce friction and static to maintain fold accuracy
Three kinds of folder rollers available depending upon application
Right-angle conveyor allows complex folding such as DL folds
The system can be further enhanced with Horizon's pXnet bindery control system which integrates JDF Workflow from upstream devices
Horizon AF-406F Small-Format Paper Folder Specifications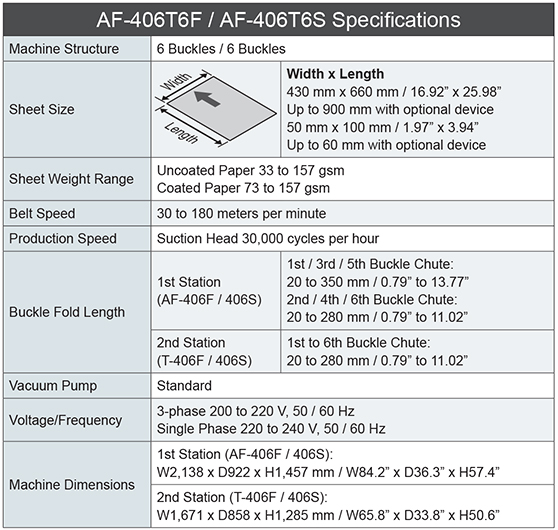 Share
View full details